Some of the Thoughts Behind the Art
Closing Time - Tuesday, November 23rd, 2015
Scanning season has sadly come to a close, with even the last remnants of colored leaves having faded to an unappealing brown. Hopefully I have enough decent images to keep me occupied this winter editing them. Late summer/early fall did offer some interesting items – I'll tackle them on some cold, blustery January night and get a little cheer thinking of the upcoming floral season.
The heather were spectacular this year, in contrast to the hydrangeas that only produced a few sporadic clusters, not like their usual cacophony of huge blue heads. I tried putting them together in various ways with limited success until stumbling on this arrangement.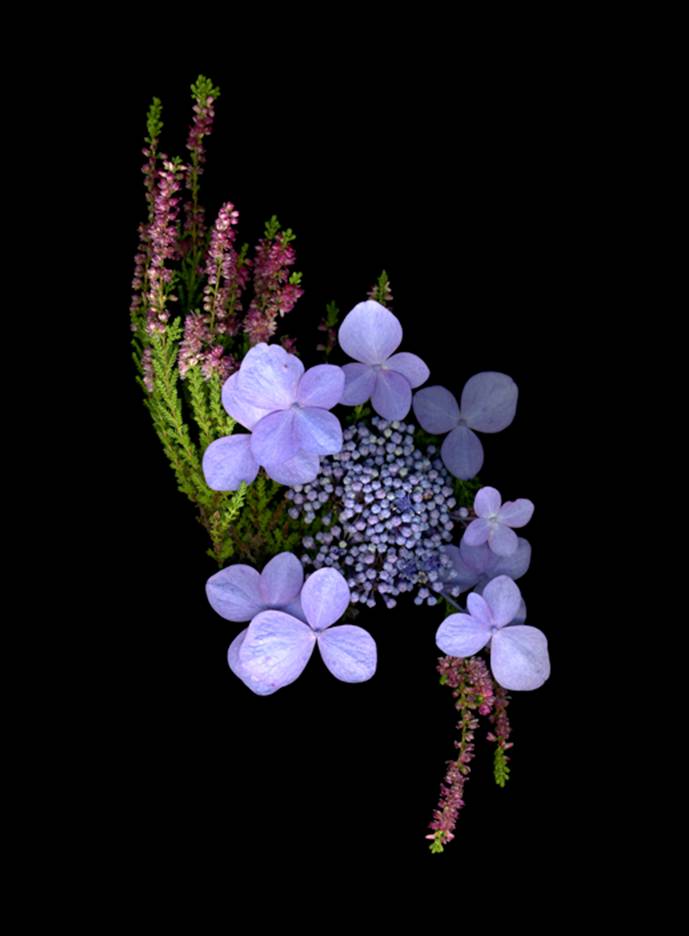 Taking the hydrangea cutting for this scan thus required a little stealth so other gardeners in the household wouldn't catch me! When I paired them up the result reminded me of the Whirlpool Galaxy (https://upload.wikimedia.org/wikipedia/commons/thumb/d/db/Messier51_sRGB.jpg/280px-Messier51_sRGB.jpg). The full detailed images from the Hubble telescope are amazing. It only seemed like millions of florets when editing this, but still a few orders of magnitude off of the several billion in that M51 galaxy.
Hydrangea are quite a delight so definitely disappointing that they were rather muted in their display this year. They start out with greenish blue bud clusters, then open to their full-fledged blue glory (doing so for several weeks) before finally fading to various greenish shades again. Is there another bush that grows well in New England that produces quite such a show? I can't think of one.
M51 is available on Fine Art America.
Violated! - Sunday, March 1st, 2015
A post on the WetCanvas! art forum site suggested periodic use of the Google image search feature to see where images of your work may be appearing on the web -- and not in ways that you've authorized. About a year ago I found Fall Leaf Collage II was being used without my permission on a commercial web site and being mis-represented as to how it was created as well. I notified the publisher and requested that they remove the work or compensate me for the use, and they removed it (though I wonder where they got the replacement image). Of course, their web site had copyright notices on every page, but I guess that didn't apply to their use of other's efforts!
Well, it happened again. The same work, Fall Leaf Collage II, rendered by an artist in pastel. It was essentially a "paint by number" (pastel by number?) rendition, exactly mirroring my original work, leaf for leaf. For sale, $125. The image was on Pinterest, so I had to sign up for that site to submit what is referred to as a DMCA (Digital Millennium Copyright Act) removal request. They were quite prompt, taking it down within 24 hours. The artist responded indicating that a neighbor had given him the image and asked him to make a pastel, and he said he made no money, it was a gift -- but then why the $125 price on Pinterest? He said he had no sales, and I'll have to take his word for it.
I guess I should be flattered but instead I feel cheated and violated, my work and inspiration taken without permission. In both of these cases I'm sure I would have taken any reasonable offer of compensation for use of my image, but I guess the Internet has made copying of images and text so simple and ubiquitous that the little copyright line on the bottom of a page is treated as nothing but noise.
On to better subjects: the spring that can't be too far away, right? Underneath the unwavering multiple feet of snow we've "enjoyed" this winter are the little crocus, tulip and daffodil bulbs that must be itching to pop out but they'll have to wait for many many days of snowmelt first. Another lady-in-waiting are a couple dozen of this miniature iris that graces our front beds every spring - delicate little pop-ups that are only six or seven inches high, a tiny relative to the summer big sisters that come out on two or three feet long stalks. Up close, however, they look just as delicate with the same subtle color variations.

So take heart everyone burdened by this long New England winter -- the buds and bulbs are still there (and well protected!) and the first days in the sixties will have that snowpack rapidly retreating and the leaves and blooms not far behind!
Heavy Metal - Not! - Monday, February 16th, 2015
At the Worcester "StART in the Street" last fall I stopped into a photographer's booth and one of the items he had was a nice landscape on what he told me was a metal print. I'd received email adds for such but hadn't looked into them, no real interest I thought. Taking a look at the glossy, shimmering finish and I realized I had to give it a try. One that I ordered from Fine Art America was Ephemeral, guessing (rightly) that the image may be well suited to that medium. I've been delighted with the result. With this medium you can put the work anywhere -- even in an occasionally-steamy bathroom. A nice new alternative that's possible!
Palette vs. A Pixel - Monday, October 20th, 2014
Fall leaves are fast losing their color and tumbling faded to the ground, so I was feeling the pressure this past weekend to see if I could capture some more leaf scans. The glorious maples are October kings, with some full-spectrum trees being my favorite: still greenish hued in the core, fanning out to yellow, then orange along the branches that culminate in crimson accents. So off I went to find some carefully selected leaves to scan and enjoy -- with disappointing results. Sure, they're colorful and interesting in their own right (some along the lines of Delta) but it just didn't capture the essence of those trees. I was looking at the leaves I was toying with and then had to chuckle to myself. What I was trying to do was akin to putting a single color splotch on a canvas, even from a brush that had swabbed several colors from the palette, and expecting it to be full and vibrant as the entire tree. Duh -- never going to happen.
There may still be some decent collages out of the quick captures I did -- too soon to tell -- but likely little will get posted here as meeting my standards of being something worthy of putting on a wall. I'll have to go back to subject matter smaller than a tree, something that will fit on the platen of a scanner.
It's Here - Saturday, September 13th, 2014
The signs can no longer be ignored. First the school buses, followed closely by some nights dipping to the low 60's and then (gasp!) the 50s, and now a few of the weaker trees are showing what must be tinges of color -- yep, fall is here. Don't get me wrong, fall is one of my top four seasons, with crisp blue sky days and gorgeous maple trees but it signals the inevitable end of the flowering season. I have a few promising works captured, awaiting only 10-20 hours of editing more suited to early-sunset winter days, but there's still that sadness of no more opportunities for many months short of splurging on floral shop offerings. (I've resisted so far, like a drug addict staying strong enough to walk past the pusher, but some times when I drop by the grocery store for a couple of things...)
It continues to be a strange year, with some plants doing great and others non-existent. The white hibiscus in our front yard have been stellar and they are usually struggling but for some reason the chafer beetles that usually put the kibosh on them have been mysteriously absent. The St. John's Wort with it's yellow fireworks blossoms was a disappointment, only a smattering of blossoms on a bush normally sparkling with flowers.
Still, there's been enough and more to capture some potential pieces. Here's one taste for you (though this is only a rough cut at editing):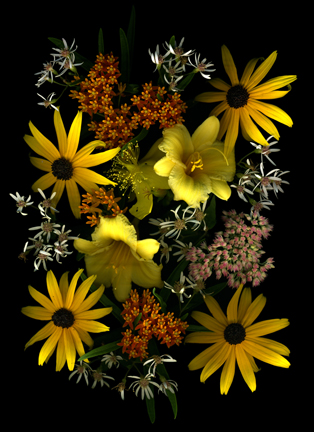 Oh, and the 2015 calendar is now available on Lulu!
Calm Before the Storm? - Sunday, August 10th, 2014
The interesting weather continues this year -- after a delightful spring we're having by all accounts a stellar summer. Only a day or two around 90 (I hate hot days), no humid spells, rain just enough to keep the lawns green but not enough to interfere with any summer excursions. Those have unfortunately been in short supply for various reasons and what's worse I haven't been able to capitalize on it by getting some more scans done, building up a work inventory for winter. The cool nights and decent moisture has allowed many flowers to remain fresh and vibrant longer than in many years, but there have been some that were non-existent for some reason. Hydrangeas in particular appear to have not liked the winter at all, with nearly everyone's bushes barren. Only a few I've seen have blossoms, notably one pink variety that apparently was just different enough to not be affected like the blue ones. Unpredictable Mother Nature I guess. Still, I was able to capture half a dozen on Friday night that hopefully will turn out OK.
It's hard to consider but the summer is already starting to wane, with earlier sunsets, so I guess it can't be a pending storm of heat -- already the shortening days limits the impact of any heat wave. Plus, if one does come now it's only a few weeks before the cool evenings of summer and good camping weather. Time to get something planned!
I did also get the 2015 calendar set up on Lulu this weekend - check it out! They really come out quite nice, been very satisfied with their service.
A Long Winter, but the Explosion is Here -- Time to Deconstruct Some Flowers - Sunday, May 4th, 2014
Scientists have lots of evidence showing that the world is indeed getting warmer, and one possible side effect noted as a possibility in some climate models is more extremes in the weather. That was certainly true in New England this winter -- long and cold. A few quick days of warmth allowed me to tuck some pea seeds into the garden but two weeks of cold damp rain left me wondering if rot would strike. Peas like cool weather so they have obliged by sprouting nicely, and if I can keep the rabbits off them this year (100% loss last year) we'll hopefully get to enjoy a decent crop in late June.
The pent up floral demand, both in nature and in me, finally has erupted. Azaleas, magnolias, tulips and a host of flowering trees are all finally out, so early yesterday evening I grabbed some note cards I have made and patrolled the neighborhoods to see if I could make some trades, cards for a snipping of some flowers. I was two for two, both families gladly obliging and I got the impression they would have easily let me clip some even without the gift of the card.
So after many long dark nights I got to fire up the scanner again. I started with doing some full collages and scans of entire flowering tree clippings, and then make different arrangements with snipped off florets or other parts of the flowers. As I slowly deconstruct the flowers I end up with some sometimes interesting results. Here's one after most of the petals on a magnolia were peeled off:
The heart of the flower almost looks like some sort of avant-garde pineapple, perhaps a cloisonné piece done in the '60's. Intriguing! Now that I look at it I should have done a super close-up with the last two petals removed as well. Darn!

Lots of editing to do on last night's captures so this is the only taste I can give you today!
Lesson Learned Through a Nice Conversation - Saturday, January 18th, 2014
There's a wee bit of chaos going on in our house lately, and one side effect is that I missed the drop-off window for a local photography show for three works - Clematis, Fall Leaf Collage II and Seasonings. One of the volunteers helping out emailed me to say I could still drop them off later for exhibiting but that I had missed the judging. I took her up on the offer, glad to at least get some eyes on my art for my exhibit fee.
So last night I went to the reception. It's a nice little gallery space with old brick walls and I found the expected flowing conversations of various artists and guests, including a few recognized members from an art association I'm a part of. After about an hour of conversation I took a load off on a pair of chairs set up along one wall angle, wanting to rest for a minute but also just look out at some of the art from that perspective.
After a moment a chap sits down next to me so I struck up a conversation with the oh-so-clever-and-witty "Are you an artist exhibiting here?" Turns out, no, he was the judge! I was curious to learn how he approached judging a show with so many varied styles and techniques, and he described his approach, going through the entries a couple of different ways: what appeals to him artistically, then with an eye for technical execution ("rule of thirds" for example). He then made the comment of being surprised by some pieces that weren't there when he did the judging that immediately caught his eye -- "How did I miss those?" -- and I confessed that he didn't, it was my error. Darned if he didn't say that at least one of the pieces would have won! I didn't press the question, like asking which one, because I was more than slightly embarrassed but also hadn't thought of how it would look from his point of view with some work displayed that wasn't judged. In hindsight I'm glad I didn't, because it would have been pretty egotistic to think that people would be asking why one of my pieces didn't place, but it was definitely a very nice feeling that he thought highly of them.
I also got to learn a bit about his work, including some recent work he completed on a cookbook along with peeks at some of the food shots he'd made (yep: he gets to sample some of them once the shooting is done!). A nice conversation for a Friday night after a long week. Every day you should learn something new, and talking with him I learned several new things.
His parting advice to me? One thing that wasn't learned new but something I obviously needed to re-learn and be more diligent with: "Get your art in on time next time!"
The Clock is Ticking - Sunday, November 3rd, 2013

Time and Fall Leaves wait for no man. The last few days of scanning for the year (barring buying some candidate material a the local florists) are here, with the reds and yellows of the maple leaves just about gone. This has been just an "ok" fall for me -- it seemed like some of my favorite trees had top branches bare before the bottoms had changed color fully, never giving us that solid showing. Was it because of the dry fall we've had?
Fall leaves seem like they are dry but they aren't, and that means you have to act as fast with them as some delicate flowers. Bring in a leaf that has just recently fallen and wait an hour or two and it will be curling up, soon to be a crispy dry in just a day or two. So when I go out to collect I have to either do it just before dark so I can immediately scan or else carefully pack them in a big plastic food container with a couple of just-damp paper towels.
But it's becoming a moot point. I walked around the yard this morning and while there are certainly many colorful leaves yet none of them -- gads, this going to sound cliché - called to me. I'll look again in a bit, maybe something with some ornamental grasses, but it's sure feeling like time has run out.
Sometimes I just Can't Wait - Sunday, September 8, 2013

The feel of fall is definitely in the air, with clear, dry days and cooler nights. There's even a smell to it, drying leaves or something. So time is running out to get some "inventory" captured for the long, flowerless winter -- raw images that can be then edited on those dark January days. I really should be just capturing shots and leaving the editing for later but one I just couldn't wait on -- Seasonings, now gracing the home page of the site. As I wandered around the yard and garden the various flowers and bits of leaves just seemed like they would go together. The fiery hot cardinal flowers were an easy metaphor, and then toss in the salt-and-pepper leaves just added to the mix. The Honeysuckle buds and blossoms seemed to be like some sort of spice pod to me as well --- so Seasonings it was. With all of the separate flowers and leaves there was a lot of outline to clean up, probably 20+ hours in total, but I enjoyed this picture so much I had to tackle it now.
Now I just hope I don't run out in January...
Always, Always, ALWAYS Check for Film in the Camera - Tuesday, June 18, 2013

Back when film cameras hadn't yet been replaced by today's sleek digital systems I toted around a Canon SLR. It took pretty good pictures but of course was fairly bulky, but I loved that close-up lens I had for flower shots. Of course in those days buying film and getting prints made could add up pretty quickly if you were taking any sort of volume of pictures, so there was a tendency to hold off taking some pictures, waiting for some other shot that would be "worth it." Digital obviates that of course, and so while with a 24-exposure roll of film I might get two or three really decent shots, with digital you can take 100+ pictures instead of those 24, and there are usually a couple of positive surprises, and the mediocre to junky pictures -- hey, just delete them.
But the most frustrating aspect of film cameras, something anyone who used one enough "back in the day" will attest to, is the inevitable "forgot to load the film" experience. There you are, happily clicking away at what will no doubt be Pulitzer-worthy shots, only to have that sinking feeling when pictures 25 and 26 come around and advancing the film keeps working that you realize there's no film in the camera. Over time those lost pictures get embellished by our faulty memory into being nearly legendary shots -- ones that got away.
Why do I take this little trip down photography memory lane? What does this have to do with scanography -- there's no film, right? True, but you can muck up some images just as nicely by screwing up the scanner settings. I had changed from the TIFF with LZW compression file format setting I use for the high-resolution pics I capture (preferred because it doesn't lose any data quality even after repeated edits -- a "lossless compression") to standard JPEG format to scan a couple of household documents that didn't need the super resolution of my art. No problem up to this point -- but then I FORGOT to set it back to TIFF before taking some new "pictures." Arrgh!! And the flowers had wilted and were no longer usable once I discovered my error -- and so those lost scans will grow to mythical proportions.
OK, so full disclosure: they're really not lost like in the omitted film situation, but it's a close metaphor. I have the images and they look fine enough at "normal" resolution but even though I've converted them to TIFF for the editing process I can tell the difference. They're perfectly workable images for printing at life size (8x11) and probably 1.5 times that, maybe even 2x (after all they were captured at 1200 dpi), but higher than that and I'll be able to see it and won't be able to tolerate printing them that size.
Sigh. Lesson learned, hopefully. Any film photographer that has experienced the forgotten loading problem is very unlikely to repeat, checking always that there's film in the camera before heading out, and I expect (hope?) that's I'll double-check all of the scanner settings next time as well!
A Near Miss - Sunday, May 12, 2013

I was away on a business trip last week, flying out on Sunday, meaning that Saturday was taking care of things around the house and running errands that couldn't be put off for a week's absence. Why was this significant? Because the explosion of May flowers was in full swing and my plane climbed into the sky I could see the double-blossom cherry trees blooming below me and thought for sure they'd all be done by time I got back. Certainly some had passed their prime but this past Friday I was able to take a couple of "pictures" that hopefully will make the grade. (Some that I "take" look mediocre to me when I first capture them but then they grow on me.)
Rain has moved in this weekend and you definitely can't take scans of wet flowers -- a total mess. So unless things dry out this afternoon so I can take some more scans I will still have missed the prime scanning season, at least until the summer garden flowers come into their own. Time is of the essence in this field!
I Don't Mind Losing - Friday, April 12, 2013

OK maybe I still do at some level, but in this case I can definitely live with it. The caliber of work at the Connecticut Academy of Fine Arts show was AMAZING. In some shows I've been in there have always been at least a few pieces that were mediocre at best, and downright amateurish on more than one occasion. One show I lost out to a photo that, while artistically was OK, technically was abysmal -- it had been blown up beyond what the intrinsic resolution could handle and the print was all pixilated. None of that here! Exquisite trompe l'oeil works, some watercolors that were almost photo-realistic, numerous delightful mixed-media pieces, rich pastel works, you name it. Prices for some of them are correspondingly northward, with some larger and wonderfully executed oils running into the high thousands in asking price. Doesn't mean they will sell for this price but presumably they've had a few go in that stratosphere in order to consider asking that amount.
The geography represented was similarly impressive, with Boston and New York well represented but also some artists from Pennsylvania, Wisconsin, and I even think I saw a Minnesota, presumably with pieces shipped in for the show. The net of it: looks like just getting juried in to the show may have been a pretty decent honor.
So it would have been all the more satisfying to have won. (Darn! Should I have entered Shibumi?)
Stepping Out - Saturday, March 2, 2013

Well, they're giving me a go. The Connecticut Academy of Fine Arts has accepted Clematis for their 2013 show at the Mystic Art Center. It's a bit of a drive but I'm looking forward to a different venue for a show, will be interesting to see some new artists and work. I'm especially looking forward to sculpture which is also included in this show, something not found in the local shows I've done in my area of Massachusetts. The opening reception is Thursday, April 11, from 6:00 to 8:00 PM. There are 68 artists in the show so should be quite interesting!
As I've noted before, this time of year is, shall we say, a bit sparse in the flower department. I'm getting sorely tempted by the flower shop in the local grocery store. Don't know why I don't succumb more often, somehow it seems like not as pure as flowers that I've grown or collected, but that's pretty damn elitist to say the least. OK, first step in curing yourself is admitting you have a problem. Treatment sounds like a nice mixed bouquet, maybe? The ones I was looking over were certainly colorful but I wasn't getting inspired. I shouldn't think that way because many of the works I've done have been very serendipitous -- starting to collage the flowers sparked something and resulted in a happy result. Guess I'll just have to stifle my misplaced angst and just buy some next time.
Time and Again - Tuesday, January 29, 2013

As clichéd as it is: where did the time go? Weren't we just getting ready for Christmas and the new year? And now 1/12 of this new year is already gone? I'm going to blame much of it on the election: a protracted dental extract, pundit poisoning, survey saturation, name it what you will -- just glad it is finally done with. And what, some six billion dollars spent on it? Couldn't that money have been better spent in other ways? Wait, I know the answer to that one -- in thousands of ways. Like 600,000 kids could be given $10,000 towards a college education, or we could have fixed 6,000 decrepit bridges in this country even if they cost $1,000,000 each to refurbish, or...oh, you can fill in the blanks.
So enough of that. It's over, cannot be undone, cannot be unspent, so let's cleanse our mental palates with some art instead.
I'm an occasional poster and fairly regular reader of items on the WetCanvas web site, an artist community with nooks and crannies for every type of art media or subject you can imagine. If you have even a smattering of interest in art and certainly if you dabble at all it is worth checking out with tons of ideas not just on methods and ideas for the various media but tips in a wide range of related subjects, as well as myriads of examples of what members are working on. While there may be a fair dose of mediocre pieces I continue to stumble upon some amazing works of art shared on that site. A couple of watercolor pieces have caught my eye recently, such as this delightful splash of tulips and roses and also this nearly photo-realistic oil "39 Roses". I initially thought it was a photograph and read the caption again to be sure -- yep, oil.
My own work as been slow -- it's been cold again of late so I can't very well bring home anything from the florists to toy with, though I've been eyeballing some, desperate for a "fix". Instead I'll need to plan instead on what to plant in the garden this year that will be new and inspire me. 2010 and 2011 I had some fun with some basic floral mixes but a bit of a bust last year so I need to get serious and get some new candidates thought through and either seed ordered or nursery scoped out to source.
I do have a couple of art shows I've submitted to, including one ranging a little farther a field, down in Mystic, Connecticut. A bit of a trip, or should I say three: one to take it the works there, then the opening reception and then retrieve at the end (assuming that's necessary -- not if sold!). Still, will be interesting change of pace. I'm jumping the gun a little, though, have to see if the jurors pick me to play first!
Real Estate - Friday, September 28, 2012

Fall leaves have just started to expose their vibrant colors, hinting and what will hopefully be a good show but with the drought this year that also touched our state (though in laughable comparison to the Midwest) it makes me worry that the leaves will just barely color and then take a dive. Still I'm keeping my eyes peeled for some new and interesting leaves.
But large maples and other tree leaves pose a different dilemma: the real-estate of a scanner glass is quite limited, mine being just legal paper sized. One decent maple leaf and a goodly portion of the surface is already spoken for. This is why so many images are more interesting when they consist of smaller, more intricate flowers: there's more room for arranging the pieces in various poses. All right, then sometimes we'll just have to enjoy the leaf colors by themselves:
| | |
| --- | --- |
| | This tree, found in a business park, never fails to produce leaves with an amazing array of colors all encapsulated in a single leaf. Zooming in close on this one and I find not just the obvious reds, browns and yellows you can see here but even some lavender, purple and nearly blue hues! Couple that with the smother of flowers it produces in the spring and you've got quite a delightful tree. |
Where Have I Been? - Sunday, July 29, 2012
Good Lord, how did half of this year go by? And me being lax (to put it politely) in updating things here? There's the usual turbulence found in many a home and plenty of chores and errands that always seem to take precedence over art. Summer yields flowers so it is scanning time, not editing/updating time. But having said that I'm getting pickier as to what I scan. I'm not looking to just be a documentarian, taking snapshots (scanshots?) of flowers without considering the creative inspiration to make a work of art. Sure, I do enjoy seeing individual flowers and petals in their hi-res glory, but I'm doing that more to get an idea for a larger work than just the picture for pictures sake. So yes I'm getting pickier. Plus I've already done works with most of the suitable materials from my yard, so now I have to forage further afield if I'm going to venture into new areas.
But that venturing can be frustrating. Earlier this summer I had the delightful privilege to spend two weeks in Norway and Sweden, reveling in the mountains, glaciers, cascades and fjords -- and scads of flowers. The lupine in particular were spectacular, covering banks along the roadsides or sloping up towards a meadow farm above:
Foxgloves also made an infrequent but showy appearance. Just like the lupines, the cool weather encouraged full, long-lasting blooms. Lupines here in New England come out nice but a couple of hot early summer days and they cook off quickly, whereas these Norway beauties looked like they were ready to put on a show for weeks.

In addition to the many other wildflower gems we got to spend an afternoon at the delightful Gothenburg Botanical Garden which was stuffed with garden flowers as expected but in addition had a scrumptious set of orchids and other tropical specimens under glass. I've never scanned an orchid but am itching to do so. Their intricate curved faces have intriguing depth and character yet are flat enough to to lend themselves well to the scanography technique -- at least so I presume. The trouble is how do so without having to cut the bloom? I don't have a greenhouse to nurture these beauties, and I doubt the Swedes, despite the friendly and open experience we had, would look kindly on me stuffing half a dozen gems from their greenhouse into my suitcase (notwithstanding the curious inquiries this would cause at customs). So I've been pondering how to make up some sort of flexible jig that would allow me to suspend an orchid nestled in its pot over the scanner glass without dislodging the soil and roots. Then I could contact a local orchid society and offer a deal: pictures for the loan of a few of these shy beauties. Stay tuned -- hopefully I'll come up with some contraption to make it happen!
In the meantime, I'll just have to keep the images of Scandinavia alive in my memory.
Quiet Anticipation - Saturday, February 18, 2012
This is the hardest time of year. Any Poinsettias from the holidays are long gone, the Christmas cactus has ceased it's show (although we have an oddball that is blooming a bit for the first time ever now with three virginal blossoms), and of course there's nothing sprouting yet outside, much less blooming. Still some of the first hints of greens are only a couple of weeks away, very likely much earlier than usual if the (lack of) winter so far continues as-is.
Sure I've been doing some editing of last year's captures, but also been thinking about what to try different this year, perhaps experimenting with collages of other materials mixed in with any flowers and leaves, or compositing images together for a broader piece. Up until this point all of my work has been of the "point and shoot" variety -- what you see is what you get, no digital manipulation other than cleaning up any dust or pollen and erasing the background to pure black.
So as I touch up the backlog of images I have yet to clean, listening to some Dire Straights or Coldplay, my mind is free to wander and lately it has been composing some possibilities in my head. Whether or not it pans out you'll have to visit back in a while to see. But for now we have to wait for the sun to keep rising a little earlier each day and slowly inject warmth back into the New England soil.
From Zero to Video in Sixty Seconds - Tuesday, November 28, 2011
OK, so it was more than 60 seconds, but still not bad -- about four hours. But before I explain that, a little background.
This fall was an absolute bust as far as leaves go. I'm pretty sure it was due to the warm autumn, because when we finally did get a hard frost (long after the heavy snows that blacked out a few millions with power outages) what leaves remained on the maple on our front lawn (the branches that hadn't broken off) then at long last turned red. By then though so many trees had lost their leaves the normal glory we get in New England had gone pfft. As a consequence it has been quite a dry spell without anything decent supplied by Mother Nature to inspire me -- summer's bounty of flowers long gone and no interesting collages or color spectrums to play around with from leaves. I'm making do with editing some scans taken earlier in the summer or even backlog from last year but it's not the same as fresh material. Sigh. Well, there's always next year.
So as a way to inspire myself indirectly I got an idea last Saturday night to make a short demo on scanner photography and post it on YouTube. I'd never done such, so wasn't sure what was involved. It was rather fun and involved some poking around the Internet for some tricks and tools, took three different computers, but got it done in about four hours or so. Here's what I had to do:
On my main computer I put together a quick PowerPoint slide deck with some steps and tips on creating a scanography image. A few slides, then a dozen or so examples of the results possible with this technique.
I needed some soft music to go with the images slideshow, but where to get some without copyright infringement? Aha, I have an old (10 years!) music transcription software package called MusicTime Deluxe that worked neat and allowed you to record MIDI files or take MIDI input from a keyboard. I had it still on my daughter's six year old laptop she used in college, so I fired it up, hooked up the keyboard that I loved tinkering around with but never get time to do any more with the intention of noodling in some soft, synth-loaded bit. Darn, I can't find any adapter to go from a MIDI port into a USB -- tells you how long it has been since I tried this, since I don't think I have ever owned such a connector, I must have used this software two computers ago before USB was even around.
Now what? Aha, I had some Beethoven music that I had manually entered in to the MusicTime software, a bit of Sonata No. 14 "Moonlight". Sweet, I'll just use that. Whoops, it only creates .MUS files, a probably archaic format. This is where the Internet search came in: I found a web site that will take .MUS files and produce a .WAV or .MP3 output. Neat!
OK, now what about the video? My little digital camera does record video, but in testing it out (I never really use it for that) the resolution was pretty crappy. It's a camera after all and so video isn't likely to be it's forte. So I had to bag the live video and instead just record voice and the PowerPoint presentation, which is where computer #3 came in, my work computer. I have a copy of Camtasia (really neat package, by the way) and used it to do a quick recording of the slides with me narrating, then I added in my really cheesy soundtrack during the slideshow of the scanner art, edited out any mis-spoken parts, had Camtasia save it as a MP4 file, and I was good to go. Last bit was to create a YouTube account an upload the video. (I know, I know: what am I, the last person to get a YouTube account?)
What did all this accomplish? Mostly I'd say it was a fun little exercise for me, mostly to see if it could be done, but maybe someone will enjoy it. The video is HD (did I mention that Camtasia is really nice?) so if you have an Apple TV or some other connection to show it on a large monitor you'll get a little appreciation for the pics when printed large. Here's the link -- Enjoy! (Don't worry: I'm not expecting this to go viral;)
http://www.youtube.com/watch?v=jzSszdj7Zq4
Survived Irene, but She Sure Put a Damper on Things - Saturday, September 3, 2011
By some fate we dodged some of the worst of hurricane Irene. Lots of rain (4.5", over 12" for the month) but somehow we didn't lose power. What Irene did do is damage what flowers we had left in the yard. They look OK from a distance, but when you get close (and the scanner definitely gets close!) there are too many nicks and cuts to have the results look good. So I'll need to wait for mums and the leaves of August I guess.
With all of the happenings of a busy summer I haven't done anywhere near as many scans as I'd like, but I did find some late evenings to get a few older ones polished up anyway. Clear out some of that editing backlog?
Check It Out - Saturday, June 18, 2011
I really should have my head examined. I'm still working on "Changing of the Guard" currently displayed on the home page because it has so many detailed nooks and crannies (though don't ask me how to tell a nook from a cranny!). It may look done in this smaller image, but there's quite a bit of detailed work remaining around the grasses. I've probably invested 20-25 hours into this piece already and easily have another six to go. It's relaxing for me, though -- I turn on some music and can unwind from the day's troubles. But all the same I think I need to do some scans of some nice, round, smooth simple flowers for a change! One group of flowers I'm dying to do is some orchids, but for some reason I can't find any in the woods nor in my back yard. I've toyed with the idea of connecting with some orchid enthusiast and trading them a nice print in exchange for a loaner of some blooming plants. I'd have to rig up some sort of jig to safely hold the plants in their pots so as to not damage them or the blossoms but I think it would be worth it.
For those of you in the area, check out the joint Blackstone Valley Art Association and Franklin Art Association joint show at the Premier Image Gallery in Ashland, Massachusetts. Yearnings received an Honorable Mention which certainly was nice in a joint show.
You Say CLE-ma-tis, I Say cle-MA-tis - Saturday, May 21, 2011
However you say it, it's a great plant. Reliable, hardy, springing up every year with rich large flowers on their resilient vines. And the purplish blue gem has some fond memories for me as one of the first serious works I ever attempted with scanography (check it out here), and now that work was rewarded with first place in the photography division of the Franklin Art Association's spring "Art Under the Tent" show May 21-22 in Franklin, Massachusetts. Always a nice surprise to walk into a show and have people congratulating you!
It's Taken Forever and Now Overload - Saturday, May 14, 2011
This spring has been cool and slow to emerge from the browns and grays of post-winter. Finally a few days in the 70's recently and you know what's going to happen -- everything bursting into bloom at once. I had to be away on a trip for several days as well, so the dramatic change a few days absence made to the leaves and flowers was all the more pronounced. But it does leave the dilemma of too much coming available too fast. Sometimes I need a few times seeing a blooming branch or cluster of flowers to have an image come to mind that I'd like to capture. And as my library of images grows, it does restrict me somewhat, or at least forces me to think of new approaches to take -- no sense doing another shot of some arrangement I've already done. I remember visiting a gallery in Boston some years ago that exhibited 25-30 paintings by the same artist, all variations of sunlit Italian golden towns. They were nice, but seriously, didn't they tire of doing so many slightly different, derivative works? Also, if the prospective buyer didn't like Italian scenes or the colors wouldn't fit in their home, they were out the door.
Anyway, enough of that. I'm trying to capture as much as I can in the limited time available for these spring gems. Some of what I'm doing is just capturing single flowers or leaves or small florets or clusters. I'm contemplating doing some digital collages. Up until now everything I've done is a direct captured image, no rearranging or digitally adding of flowers or leaves. (I've sometimes removed a stem or two that had to be in the shot because they were holding a flower in place.) Stay tuned!
Finishing Touches - Sunday, March 6, 2011
This past Wednesday I attended the Franklin Art Association's monthly meeting with a demonstration by oil painter John Kilroy creating a portrait of one of the FAA participants. Why would painting interest me? Color and composition play similarly important roles in photography and scanner photography perhaps even more so with the focus so near to the viewer. John's work was similar to a few other portrait artists that I've seen both in person and on PBS or similar TV venues. They build up their works in layers, with foundational tones forming the basis that is enhanced with further detail, colors and highlights. The likeness always seems to just "appear" for me near the end when the key shape of the nose or highlighting in the hair makes you say, "Oh, that's her." It always impresses me with artists such as John that they can look at a subject and view it in abstract terms of tones and lighting and not hone in on that dimple or eye glint until the end. I've been trying to see potential in flowers or plants that I'm looking at in the garden (or the grocery store!) and imagine the end result instead of having to come across it by trial and error. It's coming easier but I think I'll keep attending a few more demos to keep learning!
I'm Alive, I'm Alive! - Monday, February 21, 2011
Despite the dearth of posts or new art, I am alive and well and working away on art. For any of you reading this that are in New England I don't need to explain that there's no scanning going on, what with the several feet of snow we've had stuck on the ground for weeks. A little warming trend last week at least settled the piles at the intersections a bit so you don't feel like you're playing Russian Roulette in order to pull out into traffic. But it does mean that unless I drop a twenty or so at the florists there's no new material. So instead of I've been using some of these winter evenings to clean out the closet so to speak -- finishing up the fine touch editing on some scans taken over the past few years but never finished up. Some of these are images that aren't necessarily first cut so not sure I'll post them yet, but maybe they'll grow on me. Another possibility that I haven't explored yet is some digital collages -- merging material from various sources into a new picture. Up to now everything is "what you see is what you get," that is, direct scans of the flowers without any cutting/pasting on the computer with PhotoShop. But I might explore that technique a bit in the future, so I'll hang on to these images. After all, they're just taking up a few hundred megabytes on the ol' hard drive. So stay tuned and wait for inspiration to strike, otherwise we'll all have to wait patiently for spring!
The Show Must Go On - Friday, November 12, 2010
Last Saturday the Franklin Art Association held it's fall art show and it was a good news/bad news situation. The bad news was that I didn't win any prizes, but that was vastly tempered by selling a few pieces, including Fall Leaf Collage and Lavender Triangle. That kind of prize is much more enjoyable, not so much for the money (though no complaints) but I think the ultimate "Gee, I like that" prize vote comes with the unfolding of a wallet. With economic times still questionable for a lot of people it was all the more rewarding. Overall, sales at the show were light but the very nice turnout of visitors and the delightful works displayed by so many talented people combined to make a pleasant evening indeed.
Details, Details - Saturday, October 2, 2010
Last weekend I visited a local town's harvest festival -- bands, booths with crafters, food vendor carts, the usual. It was a great fall day, sunny and around 70 with a breeze, just what the organizers ordered I'm sure. There was a photographer there selling prints, and I was drawn to them because they had some intriguing points of view and colors. What turned me off, however, was the matting job. It was pretty clear that the photographer must have cut the mats as it was far from a professional job. The inside corners were the telltale sign: they weren't clean, neat, right angle cuts, with many having tiny tears. These details totally distracted from the pictures. It doesn't seem like it should, just a little tear on the corner, but once you saw it your eye was drawn to it every time you looked at the print. It's why I don't do my own mats or hang my own wallpaper. A job done by a pro is just better than I'm going to be able to do. Many years ago I bought a simple mat cutter and merrily messed up several mat boards before I got any that were remotely serviceable, and even those didn't have the pristine edges that everyone wants. The mat should frame and complement the picture, and never detract. I've never cut my own mats since, and haven't regretted that decision. Back to that artist on the street: the money they saved by matting their own didn't save them: their picture is still in the bin, I didn't buy it, all because of lack of attention to details.
A Long, Dry Summer - Sunday, August 22, 2010
Hot and dry is a simple but effective epitaph for this summer, although as it isn't quite Labor Day it may be a bit premature to declare it over. Though with back-to-school sales over a month old summer sure is on it's last legs. What a change from a year ago, with a cool summer and 21 days of rain for us in June. This year we've had barely three inches of rain in three months. Sure cuts down on the lawn mowing time but it does a number on the flowers as well. So scanning has been virtually nil these past couple of months. Sure, I could do a daisy or two or toss some rudbeckia on the glass but that's nothing new and not very inspiring to me -- been there, done that. So I may have to break down and buy some different posies to scan. (I was visiting a greenhouse at a nearby college a while back, admiring their orchids, but couldn't think of a reasonable opening to request any. "Pardon me, can I cut some of your prized orchids?") The fall asters and other late bloomers are likely going to be weak at best even if this week's planned rain comes to pass -- too late to save them, most likely. So a trip to the florists may be what I need to bust me out of these drought doldrums!
Freebie - Saturday, June 5, 2010
I did a quick scan this spring of some tulips, and I thought I'd share it with you -- as a high quality image that you can freely download and print to get an idea of the image quality possible. This is a 300 dpi file, 8x11 image. Anything higher than 250 dpi is usually considered a high quality image, though beyond 300 is beyond the ability of printers to resolve and adds no effective quality to the image. So feel free to download this picture, Three Amigos, and print it out for yourself to see what the image quality is like. Enjoy!
Quick Show - Tuesday, May 3, 2010
The Eye of the Beholder - Sunday, February 21, 2010
I recently participated in an art show that had over 165 works on display, including some very high quality pieces that I would have been very pleased to have in my home or office. What was interesting in the photography section was that all of the winning pieces were black and white. They were very nice pieces, and of course I was in far from an un-biased position, but it made me think about the judging process. How would I do as a judge? It's likely a rare judge that really has in-depth experience in all of the various media that get submitted to a show. Certainly some have worked extensively in more than one (oils and acrylics, or pastels and watercolor) but do they really have experience in enough of them to be able to properly assess the merits of different pieces that used different tools or techniques? And how do you filter out your own personal art biases? If someone prefers cool greens and calming blues, will an impressionistic orange sunset scene get a fair review? I doubt I could be as medium-neutral as is needed to be fair across the board. True or not, I've always thought that watercolors were harder to master than oils (no way to paint over a mistake), so that subtle bias would presumably seep into any opinions I was forming. Don't worry, I'm not qualified and haven't been asked to judge any shows! But the 1-2-3 awards for only B&W works in that show was a little disappointing and did seem to "paint" the judge as having a predisposition to that format. It may be the musings of a loser, but it does seem like the art show process is a bit funny when you think of it. The only vote that probably really matters in the end is does the viewer like it, and want to hang it in their home.
It's Been a Long Time - Saturday, January 29, 2010
Egad, how did it get to be January 29th? Almost February, and I'm still having to be careful to write 2010 all the time. A tenth of this century is already behind us, and the pace of time and change both show no signs of abating. Well, fortunately the beauty of nature is always there to fall back on.
Today I set up a dual exhibit with photographer Robert Thomas at the Norfolk Public Library (directions) in the Community Room. Sounds simple, right? Just hang some pictures? Well, only about half a dozen were framed works, the others just matted prints. Many people prefer to buy just prints or matted prints as then they can add a frame that matches their decor -- black metal, gilt wood, whatever. But this posed a problem: how to hang them when they don't have any frame and wire?
To solve this I ended up making some corner brackets out of some edging used for laying tile, believe it or not. Cut into four inch pieces and super-glued together gave me a nice angle bracket, then I hot glued some woven white strips diagonally across. After setting a corner on each work I was then able to cross-hatch tie them together in the back (the edging material conveniently had holes all along. Running a small picture wire across at the appropriate spot completed the deal. All told it took about 4-5 hours to make the 24 or so I needed, but it seems like they will work fairly well. I'll let you know at the end of the month. (The exhibit continues from January 30th through February 26th.)
Colors Everywhere, Yet Frustration - Friday, October 2, 2009
So the view out the car window driving down just about any road is becoming nicer by the day, with New England's finest season (in my opinion, anyway) upon us: the fall foliage show. I'm motivated to seek out some alternative ways to capture the colors but it can be frustrating. Look again at a maple and notice the full palette of color as the oranges on one branch yield to yellow as you migrate out to the tips, or there may be a progression to some stubbornly remaining greens at the crown. How to capture that spectrum of color on an 8x11 scanner? I'll keep puzzling on that one and let you know -- hopefully with some nice scans to share with you.
I did have a nice surprise tonight, taking one of the Judges Awards at the Cultural Arts Alliance "Focus" juried photography show with Yearnings. A very nice reception at the Hopkinton, Massachusetts gallery, meeting many fellow artists and seeing what catches their eye and different photography techniques they used.
The Year of the... - Saturday, July 25, 2009
Each year in the Chinese calendar has it's own animal symbol: the Year of the Dog, or Dragon, for example. This year should be the Year of the Slug. It has rained so frequently and been so cool that those little slimy snail cousins have been proliferating quite nicely at the expense of some of our flowers. Generally I prefer cool weather as opposed to those sweaty, steamy mid-summer days that can occur, but this year has been unusually cool and damp. I don't recall seeing lawns so green in late July before. The lawn sprinkler companies must be having a decidedly poor year.
But the cool weather has preserved some flowers, helping their blooms hold up longer, not being baked by scorching days and little moisture. It has been just warm enough to bring out the first sunflowers, and I've been enamored with the first one, currently featured on the Bits of Nature home page. If their size alone doesn't impress and please, take a moment to look at the symmetry within the flower -- converging spirals coalescing at the center -- and enjoy nature's designs even more.
Cleanliness is next to... - Sunday, June 14, 2009
Something I have to continually remind myself with scanner photography is that cleanliness is everything. Hair, dust or pollen show up quite nicely right where it shouldn't when you scan flowers at high resolution. So I carefully clean the glass of the scanner and arrange the flowers delicately, but some flowers just don't cooperate: too much pollen, for one thing, but sometimes there are other surprises. Here's a little "guest" I came across while working on one picture: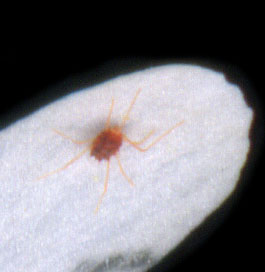 To give you some perspective, this is one branch of one split petal on a flower that is perhaps 3/4 of an inch in diameter, so this little mite is probably at most 1/4 of a millimeter in size. Here's the flower (with it's passenger) at approximately life size:

See that little red dot on the upper right? That's our little friend.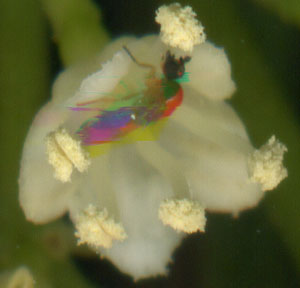 This flower is one tiny floret about 1/8 of an inch across from an American Cranberry. So why is this fly so gaudy? It has to do with how the scanner operates -- it actually makes three different color captures (red, green, blue) while going across the image. In that tiny period of time as each color was captured, this little fellow moved a whisker (or should I say, an antenna ;) so the colors didn't overlap and we see them according to the position he was in when that particular color was grabbed.
So unless you have room for guests, clean your flowers as well as your scanner glass!
Finally! - Saturday, May 2, 2009
Two days in the 90's this past week with several more well north of 70 means that the flowers and leaves have just exploded, but also leaving me fearing a quick exit for those flowers as well. Daffodils and others don't like that really hot stuff. Fortunately the heat has backed off for now and a cooling wave means we'll be able to enjoy the flowers a bit longer -- and give me some more scanning opportunities! Last night I tried some arrangements of ornamental cherry blossoms, exploring different compositions of the same buds and flowers to see how the variations compared. I was working fairly quickly (buds wilt!) so haven't been able to review them so we'll have to see what editing exposes. It's a strange irony of this art form that smaller, more intricate buds usually work better for scans as they leave more room for alternate arrangements -- but do add to the editing time!
Insanity - Friday, April 10, 2009
I've been working on and off on a piece that I should make me a candidate to be locked up in in the proverbial padded room. It is an arrangement of celosia and ornamental grasses. What's so insanity-provoking about that? The devilish detail in the grasses. They complement the pinks of the celosia nicely as they have quite a bit of rosy colors in them as well, but all of the tiny individual threads of the grass means some excruciatingly detailed editing is required. For most of my work, editing down at the 9-12 pixel level is about as tight as I have to go. For the 1200 pixels per inch scan density I usually use, this means editing at about 1/100th of an inch level. These grasses are forcing me to edit around them at the 3-4 pixel level, or about 1/300th of an inch! I captured this picture in 2008 and not sure if it will be done even this year. Love the colors, so I'm going to continue plugging away at it in between other more sane works. Stay tuned!